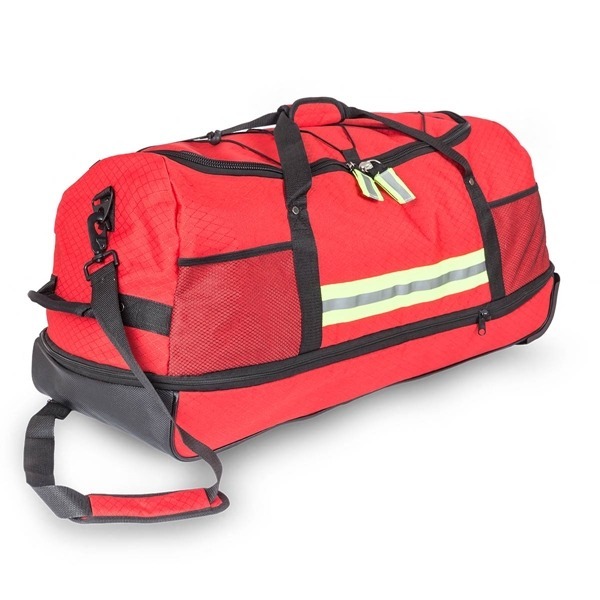 ROLL & FIGHT'S Firefighter Bag
Description
ROLL&FIGHT'S
The Elite ROLL&FIGHT'S cleaver rollable design results in a holdall that not only is spacious, but also can be packed away, significantly reducing required storage space while not in use.
While it has both handles and removable holder straps, it also features durable wheels at the base to assist with carrying heavy loads.
Built from tough, ripstop, water repellent fabrics and supporting high visibility bands and zip tabs, this bag is an ideal kit bag for emergency and fire crew.
A compression zip allows for the main compartment to be extended in volume when needed and mess side pockets provide easy access to personal effects such as gloves or keys.
Built from treated 1000D ripstop water repellent polyester.
Flexible, non-slip base allows bag to be rolled, reducing storage requirements when not in use.
Tough welded trolley wheels.
Reenforced padded handles and should strap with metal rivets for added strength.
Elasticated cord web on lid to stow, blankets, towels, jackets etc..
Large, expandable, bellowed main compartment with compression zip.
Internal zip pockets for personal effects.
Weight (approx)                                                               1.5 kg
Dimensions (approx)                                                      31 × 77 × 36 cm
Capacity (Liters) (approx)                                               85.93
Material                                                                            1000D RIPSTOP POLYESTER
Colour                                                                               RED
Recommended maximum content (Kg)                      10.00
Characteristics:                                                                Reflective Bands
YOU MIGHT ALSO LIKE
FREE SHIPPING
Free delivery on all orders over €125 net.