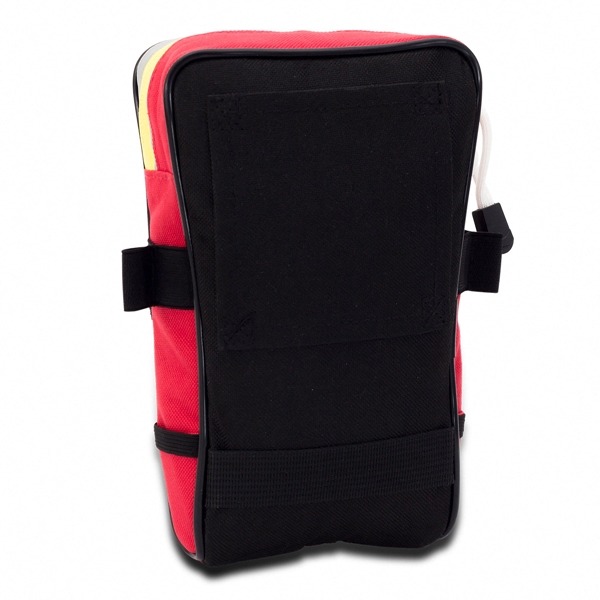 Description
RESQ'S
The Elite RESQ'S medical equipment holster makes for a neat and durable means to stow about the body those essential medical apparatus needed for diagnosis and treatment in the field.
With dedicated pockets stethoscopes, touches, Guedel airway cannulas, scissors, oximeters and glucometers, medics will not be caught short when responding to incidents.
Glow in the dark zip pullers, night & day high vis bands and red emergency coloured fabrics ensure this pack can always be recognised and located even in poorly light environments.
A rear strap loop allow the holster to be secured to both horizontal and vertical belts and straps.
Large glow in the dark zip pullers.
High visibility reflective night & day trim.
Reversible zips allow the main compartment to the opened and closed from either end.
Dedicated front pockets for medical scissors.
Compartments for perfect for pulse oximeter and glucometers.
Elasticated straps for securing latex gloves.
Side pockets for Guedel cannulas, torch, etc.
Rear bi-directional belt loop allows for horizontal or vertical attachment to belt or straps.
Weight (approx)                                                0.15 kg
Dimensions (approx)                                        5 × 13 × 21 cm
Capacity (Liters) (approx)                                 1.37
Material                                                              600D POLYESTER
Colour                                                                 RED
Recommended Maximum Content (Kg)        2.00
Holster is supplied empty.
YOU MIGHT ALSO LIKE
FREE SHIPPING
Free delivery on all orders over €125 net.