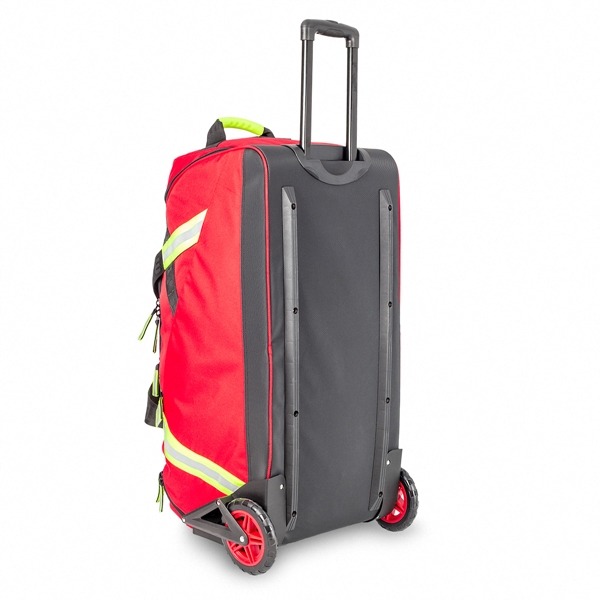 ATTACK'S Evo Trolley Firefighter Bag
Description
Additional information
Description
ATTACK'S EVO TROLLEY
Introducing the ATTACK'S EVO PPE Trolley bag, designed for efficient transport and storage of essential equipment including boots, helmets, uniforms, gloves, and more. This trolley features three separate, ventilated compartments, ensuring your gear is organised, easily accessible, and well-aired.
The bag is highly durable thanks to features including all-terrain wheels, resilient end plate, rigid base with protective rails and rugged zips.
The abundant reflective trim ensure compartments are easily to access, even in low light levels or while wearing protective gear.
Options for personalisation, including the external display window for identity cards mean that there is no confusion even when multiple members of a team are using the same model.
For ease of mobility, the trolley is equipped with a sturdy retractable handle and robust wheels, significantly aiding transportation, even when fully loaded.
Strong, re-enforced handles result in a bag that is always easy lift and stow.
The Elite Bags ATTACK'S EVO the ideal choice for daily use and the demanding environments encountered by Firefighters, emergency services and related professions.
Large, durable all terrain wheels featuring reenforced brackets for heavy loads.
Resilient end plate with stabilising studs, allowing the bag to sit vertically without tipping.
Rigid base with hard-wearing rails that maintain form and greatly reduce wear and tear.
Large outer top pocket with robust zip and 3 internal net pockets under flap.
Spacious end compartment, isolated from main chamber, ideal for stowing a protective helmet.
Lower vented boot pocket, isolated from main chamber.
Internal lining with zipped access to the trolley frame.
Reflective trim and large night & day reflective pull tabs on all zips. Easy open, even with gloved hands.
Panel allowing for personalisation with stickers and external display window for identity cards.
Sturdy retractable trolley handle for easy travel even when full.
Woven strapping with tough re-enforced stitching and three rugged fluorescent-yellow handles providing exceptional grip.
Weight (approx)                                                               6 kg
Dimensions (approx)                                                      38 × 77 × 34 cm
Capacity (Liters) (approx)                                               99.8
Material                                                                            1000D POLYESTER, TARPAULIN
Colour                                                                               RED, BLACK TARPAULIN
Recommended maximum content (Kg)                      15.00
Additional information
| | |
| --- | --- |
| Colour | Red, Black Tarpaulin |
YOU MIGHT ALSO LIKE
FREE SHIPPING
Free delivery on all orders over €125 net.