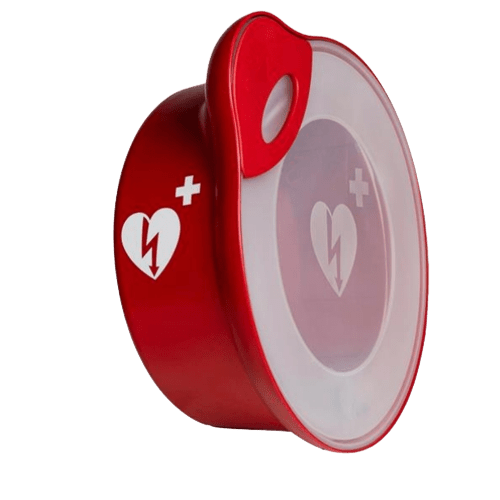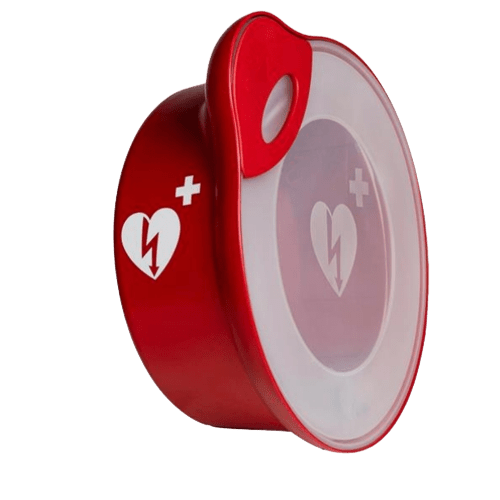 Cabinaid Outdoor AED Cabinet
Description
Outdoor AED Cabinet (Compatible with Cardiaid ONLY)
Application:
For indoor and outdoor use
Frost protection up to -20 C° ( Cabinaid Pro)
Heat protection up to 60 C° ( Cabinaid Pro)
Compatible with all brands and types of AED devices
Dimensions:
Outer width: Ø 55 cm
Internal width: Ø 48.3 cm
Depth: 21.4 cm
Weight: 5 kg
Cover
The official ILCOR AED logo is placed centrally on the semi-transparent cover for recognizability.
Besides, does the handle provide an unique opening system to reduce emergency response times.
Cabinaid AED cabinets can be opened with one hand allowing the other hand to be used freely, for alerting emergency services for example.
Features
Audible alarm
Visual alarm
LED lighting for optimal visibility at night
Climate control, including both active heating and cooling functions
Optional divider plates for extra storage space
AED Hanging bracket
Safe 12 Volts operation
Lock mounting
Packaging
The packaging includes all necessary fastening materials and installation manual.
The box for the Cabinaid Advanced and Pro models also contains the 12V adapter.
Easy to open with one hand
Designed to act fast – (Community) First responders need to get an AED to the victim as fast as
possible. Cabinaid cabinets have a quick opening system to reduce emergency response times
and increase the victim's chance of survival. Pull the eye-catching handle with one hand to
open the cabinet and get the AED quickly.
Striking and recognizable
Strong in every situation – AED cabinets have to be easily recognizable. The red colour makes
Cabinaid remarkable wherever the cabinet hangs. The (optional) LED light ensures that
Cabinaid AED cabinets also stand out in the dark. Besides, the sturdy housing and the
seamless closing lid protect the AED against environmental impact.
One size fits all
Fits any (type of) AED and more – Cabinaid is designed for every type of AED. There is even
enough space for convenient accessories such as a first responder kit or a safety vest.
Organise the AED cabinet exactly as you like, especially when using the optional side
compartments.
Climate proof
Adapts to every environment – Do you want to place the AED indoor or outdoor, in a hot, cold,
humid or dusty environment? Cabinaid cabinets are designed for any condition. The Climate
control unit in the AED storage keeps the AED optimally conditioned. This helps the AED to
reach the expiration dates of the battery and electrodes.
Quality standards and certifications
IP56 The Ingress protection (IP)-value stands for the
degree of dust- and water resistance.
IP56 meansthat the cabinet is protected against powerful
water jets and dust entering the cabinet.
IK10 The IK-value indicates the degree of solid construction. IK10 means that the cabinet is protected against 20 joules impact.
UV protection Cabinaid is made from an UV resistant plastic. This ensures that Cabinaid AED cabinets will not lose its colour and structural quality due to UV radiation.
Salt mist protection Fully protected and resistant to corrosion, that mainly occurs along the coastline.
CE The CE marking proves that our cabinets comply with EU health and safety standards. An CE declaration of conformity means that the product has the right to be sold on the European market, is safe and of good quality.
V0 Cabinaid AED Cabinets are fire safe due to the isolating and self-extinguishing plastic. V0 indicates that the housing material will stop burning within ten seconds, in case a fire strikes
ONLY ONE MORE CABINET AVAILABLE.
YOU MIGHT ALSO LIKE
FREE SHIPPING
Free delivery on all orders over €125 net.