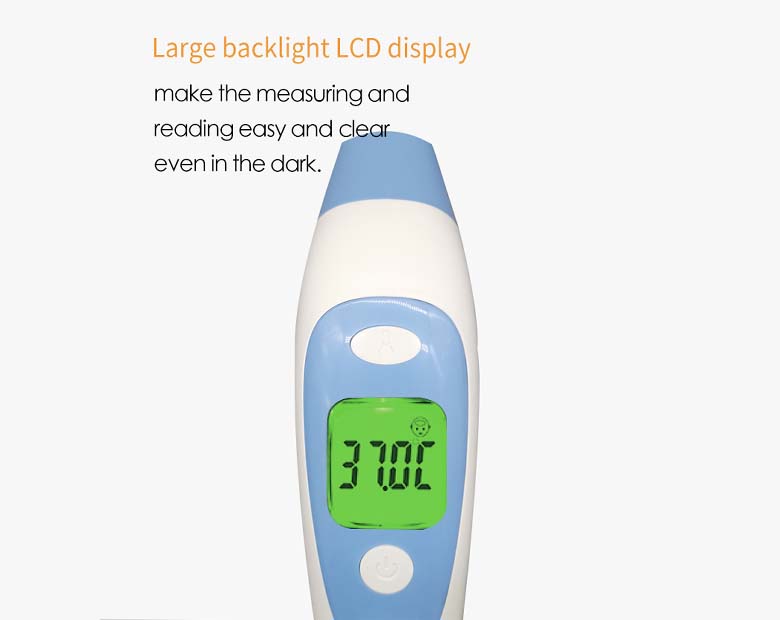 Digital Forehead/Ear Infrared Thermometer
Description
Additional information
Description
Digital Forehead/Ear Infrared Thermometer
Description
Dual modes infrared thermometer used for forehead and ear
•Easy-to-use design takes an accurate temperature reading in a second.
•Provide two temperature modes ° C and ° F.
•Multi-function for measuring the body and ear temperature, environment temperature or other object temperature.
•Backlight LCD display.

Colour: only PINK available
Measurement mode
body temperature mode
Measurement site
Forehead and ear canal
Power supply
DC3V,2*AAA batteries
Measuring range
Body temperature mode :28.0-42.9°C Environment temperature mode: 28.0-50.0°C
Measuring accuracy: (At laboratory conditions)
±0.2℃/0.4℉ during 35.5℃-42.0℃(95.0℉-107.6℉);
±0.3℃/0.5℉ 34.0℃
-35.4℉(93.2℉-95.7℉)and 42.1℃-42.9℃(107.8℉-109.2℉)
Clinical repeatability
Within ±0.2℃
Resolution of display
0.1℃/0.1℉
Memory
32
Automatic shut off
60±20S
Operation condition
Temperature range 16-32°C Humidity ≤85% RH
Storage environment
Temperature -20-50°C Humidity ≤90% RH
YOU MIGHT ALSO LIKE
FREE SHIPPING
Free delivery on all orders over €125 net.