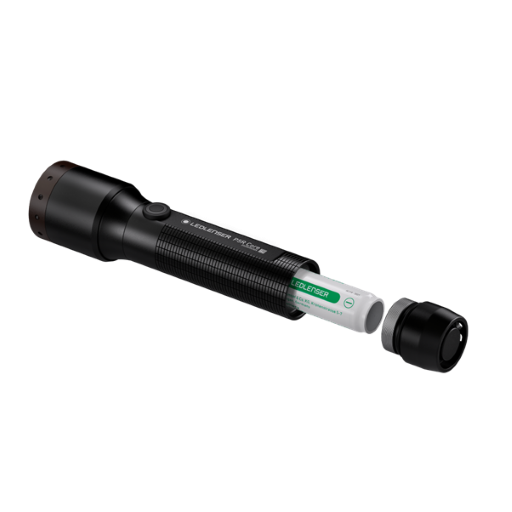 Description
Ledlenser P5R Core Torch
 500 lm         250 m              1 h
 15 lm            40 m               25 h
COMPACT, LIGHT AND FITS EASILY IN YOUR POCKET
The P5R Core is lightweight (less than 110 grams) and extremely compact, fitting comfortably into a jacket or pant the pocket. Yet despite its compact size, it packs a powerful light, is extremely weather resistant and equipped with the latest light technologies. Light functions can be customized to the user more easily than ever before with Smart Light Technology. It can be easily recharged and can handle extreme dust and even submersion in water.
ENDLESS BENEFITS:
Advanced Focus System: Can focus the light beam as a spot or flood, without losing quality of light
Rechargeable: Save money, batteries and reduce environmental impact
Smart Light Technology: Allows you to program a variety of light functions
Temperature Control System: Keeps light from overheating so it can run brighter and longer
Flex Sealing Technology: Provide superior protection against dust and water
Emergency Light: When power goes out and if your Ledlenser is on the charging base, it will automatically turn on automatically to give you light
Front Switch: A switch on the head of the light so you can use one hand
Magnetic Charge System: Safe reliable charging that is quick and easy to use
Memory Function: Sets the light so that it starts in the last light mode or brightness level used when it is switched on
Battery Status – charge indicator and a low battery warning so you always know where you stand on power
Back Up Mode: Charge level is continuously monitored and when low it drops to the low-power mode, giving you about 1 hour of remaining light
Dimmable: Seamless adjustment of the luminosity
Flicker Free: Provide flicker free and constant light enabling optimal and safe illumination of fast moving parts or machines
Transport Lock: Will not turn on accidentally and use up battery
7 Year Warranty: Be confident that we stand behind the craftsmanship and quality of our products
LED
LED Configuration

 

1 x High Power LED

Luminosity1 

MAX 500 lm – MIN 15 lm

Lighting Range1 

MAX 250 m – MIN 40 m

Battery Duration1 

MAX 25 h – MIN 1 h

CRI

 

70

Color Temperature

 

650
LIGHT FUNCTIONS
Power – high light output for every situation
Mid Power – medium light output for every situation
Low Power – economical light for long battery life, glare-free reading and working

CORE SERIES

For home and life. Designed for a wide range of applications for everyday or on the job use. Equipped with Ledlenser's latest technologies and great functionality, the Core Series gives people the opportunity to experience the best parts of our lighting products in everyday life.
FUNCTIONS
Advanced Focus System (AFS) – for efficient, precise flood and spot lighting
Flex Sealing Technology – provides high protection against dust and water (IP68)
Outstanding Ledlenser light quality – brightness, beam range and run time are ideally matched to the energy source
IP-CLASS
IP68 – Protection for submersion in water up to 1.5m deep for up to 30 mins.
HEIGHT AND WEIGHT
Length (defocused)

 

123 mm

Head Diameter

 

29 mm

Weight

 

106 g
BATTERY AND CASING
Battery

 

1 x Li-ion 3.7V

Battery Capacity2 

750 mAh

Water Resistance

 

IP68

Rechargeable

 

Yes
RECHARGEABLE
By using rechargeable batteries, you're not just protecting your wallet, but also the environment. Regular batteries, after all, require up to 500 times more electricity to produce than they can release themselves. Combined with the energy consumption for transport and storage, the CO2 emissions are huge.

INSIDE THE BOX:
1 x 14500 Li-ion rechargeable battery 750mAh, 3.7v
Lanyard
Magnetic charging cable Type A
YOU MIGHT ALSO LIKE
FREE SHIPPING
Free delivery on all orders over €125 net.