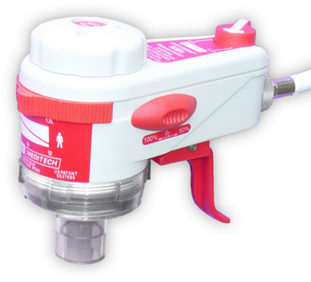 Professional World
€1,350.00 (inc. VAT €1,660.50)
Description
Additional information
Description
PROFESSIONAL WORLD microVENT RESUSCITATOR
Pneumatic oxygen powered resuscitator.
Automatic (time cycled) and manual trigger.
Suitable for adults and children.
Easy to use.
Lightweight.
Compact.
Handheld resuscitator with compact dimensions and light weight.
Ergonomic styling gives easy operation with controls in natural
position.
Constructed within a tough reinforced plastic casing the Meditech
microVENT is designed to withstand use in difficult situations.
microVENT patient valve features 22/15 mm connections to take
standard airway devices and face-masks.
The oxygen supply hose is two meters long and made of resilient
reinforced plastics to retain its flexibility in cold conditions.
A BS medical oxygen supply probe enables use with all standard
portable and piped medical oxygen supplies. (Other types
available for export)
Excellent visibility of patient and resuscitator controls.
YOU MIGHT ALSO LIKE
FREE SHIPPING
Free delivery on all orders over €125 net.