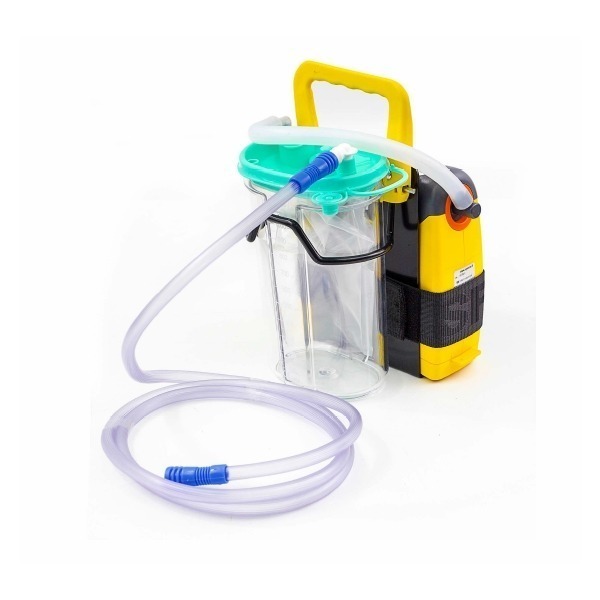 Description
Jet Wire is a compact suction unit to be used to remove fluids from the airway or respiratory support system and infectious materials from wounds.
The device creates a negative pressure (vacuum) that draws fluids through disposable tubing that is connected to a collection canister.
The fluids are trapped in the collection canister for proper disposal.
Specific features
Light and compact
Easy view of the vacuum setting thanks to led indicators
Capacious reusable canister with disposable bag
Classification ISO High Vacuum/ High Flow
Ergonomic transport handle
Standard Equipment
Battery
Serres type canister with 1 bag
Sterile patient tube
12V cigarette lighter cable
Technical data
Dimensions (HxWxD) 260x190x180 ± 5 mm
Weight 2,55 ± 0,2 kg
Vacuum range From 50 to 550 mmHg
Flow (free flow) 32 l/min
Noise level 70 dB
Electrical connection requirements
100-240 VAC 47-63 Hz 0,75 A max ; 12VDC 33W max
IP protection IP 12
Battery 12V DC Ni-MH
Mode of Operation 30 min ON, 30 min OFF
Battery recharging time 5 h
Canister capacity 1000 ml
Patient tube 1,8 m
Operating temp. From 0°C to +40°C
Storage temp. From -40°C to +70°C
Humidity From 0 to 95%
YOU MIGHT ALSO LIKE
FREE SHIPPING
Free delivery on all orders over €125 net.